Average power in June reversed the potential downward trend seen in the previous two months. Prices increased by 28% month-on-month, with June's outturn being €190/mwh, compared to €148 in May.

A temporary decrease in the energy spot price in the first week of June was preceded by a sharp increase, as it followed the NBP gas spot price into bullish territory.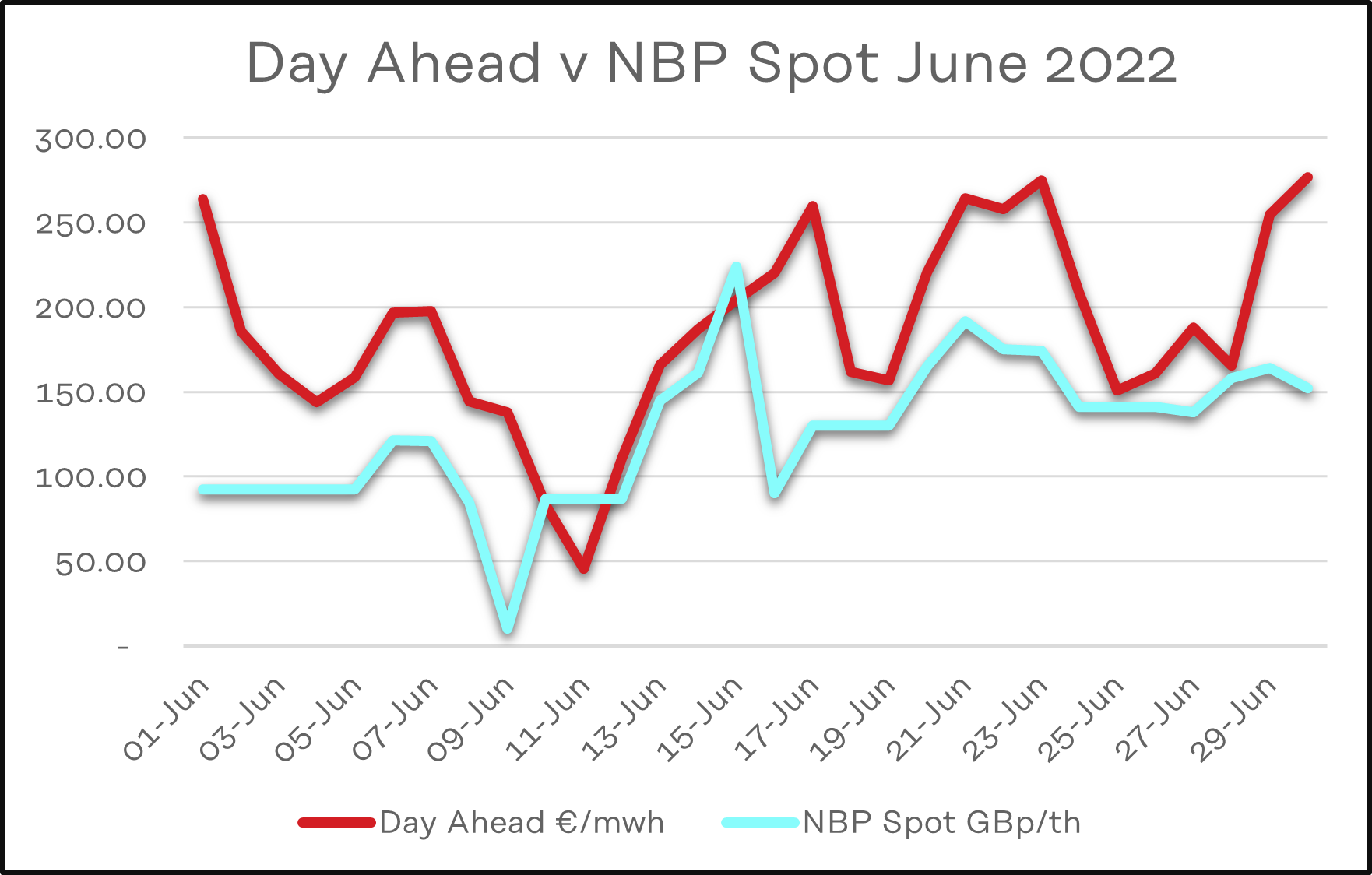 1. Gas continues to be the headline maker

Gas prices were bearish in the first week of the month, due to continued improving gas storage and also mild weather reducing the need for gas generation.
Then prices took a sharp turn into bullish territory, coinciding with the Freeport Liquid Natural Gas (LNG) explosion in Texas, which will significantly impact deliveries of LNG from US to Europe for what now looks like at least 3 months, after initial guidance of 3 weeks.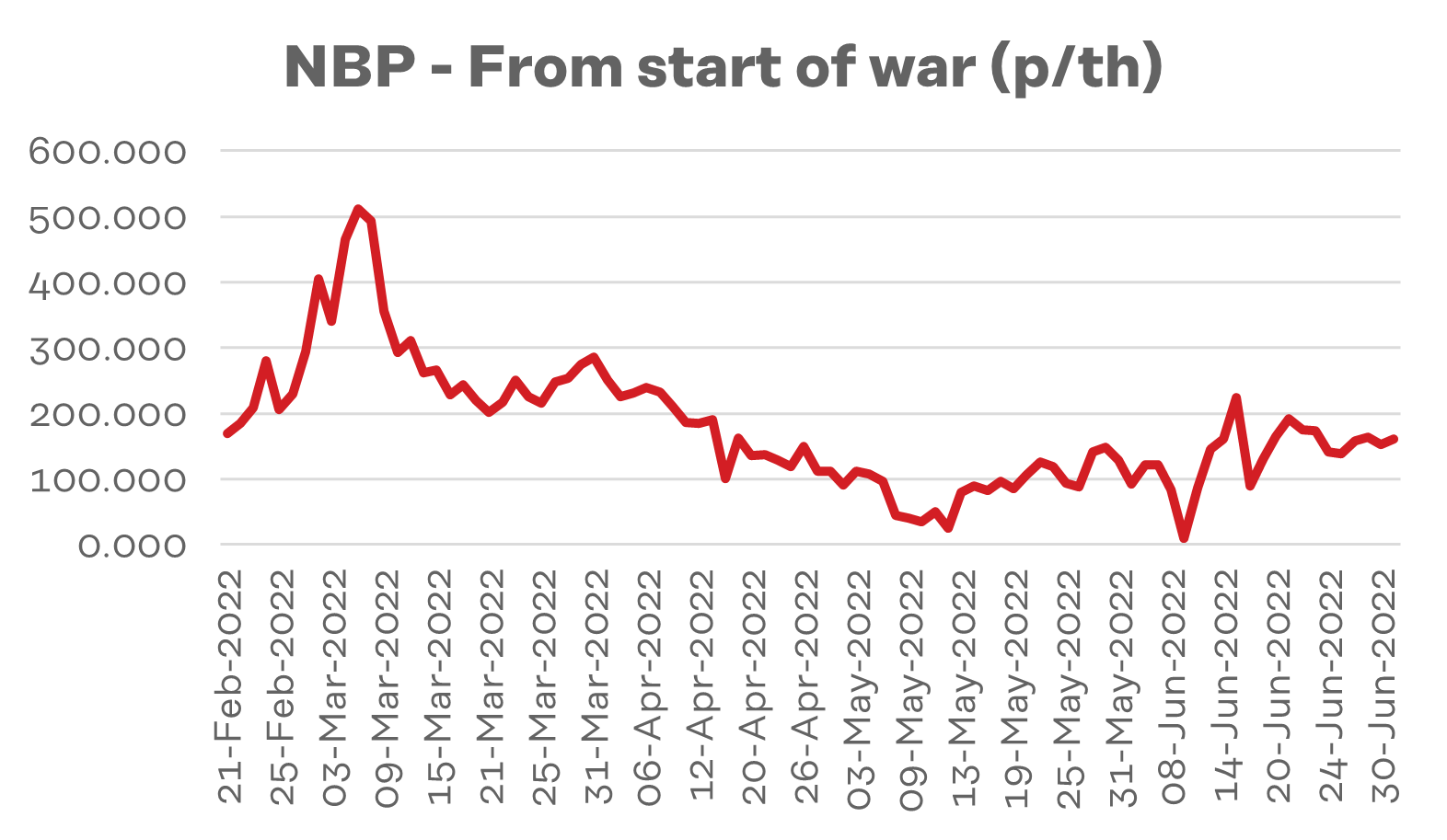 Also fueling that push toward higher prices, is increased concern over the security of gas supply from Russia. Gas supplies have decreased by up to 60% on key routes since mid June.
In addition, there is a view that the 10 day maintenance shut down of Nord Stream 1 pipeline, scheduled for early July, may develop into something bigger, as Russia seeks to weaponise gas in their devastating war.

2. Renewables continue to contribute

Renewables, in the form of wind, contributed ~29% of the generation Mix in June, representing a 5% increase on the same month in 2021.
3. Generation continue at reasonable levels

Outages have decreased slightly on May highs and continue at a reasonable level.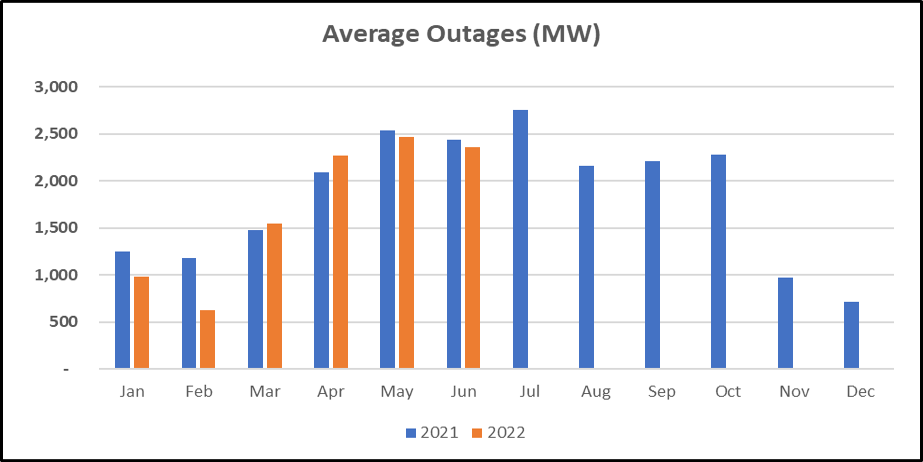 Outages are close to those experienced during the 2021 Capacity Crisis. However, the majority of outages were planned with the exception of Great Island (464MW) & Tarbert (243MW), which is forecast to come back on line in early August and March 2023 respectively.
It is hoped that such a crisis will be averted later this year, with outage levels staying below 2021 levels.
What's next?
Power Forward prices saw an increase from May.
The apparent vulnerability of LNG supply and increased uncertainty over the security of Russian gas supply going into winter 2022/23 has bumped up the risk premium sought by markets, thus impacting forward price of energy in Ireland and elsewhere.
The reduced gas supply coupled with the breakout of war, European sanctions and markets fear of further sanctions against Russian energy exports has increased the risk premium in forward pricing.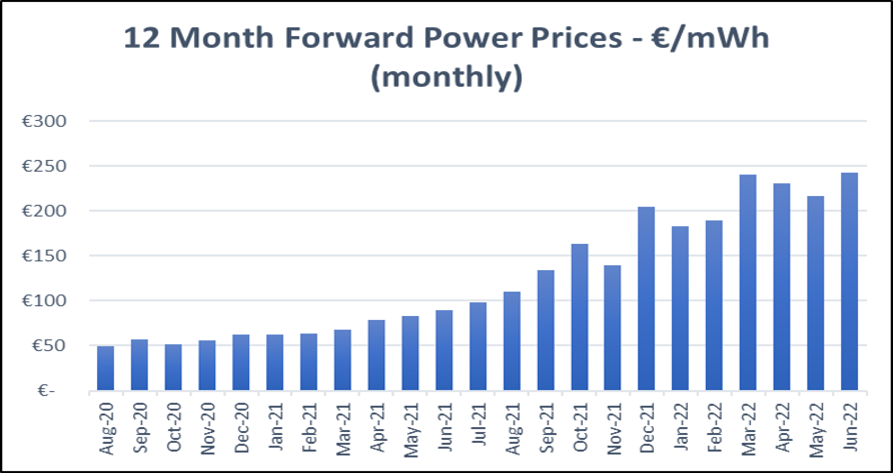 The key drivers for the market
Geopolitical situation in Ukraine and potential for Russia to influence the gas market – Negative
Weather – Mild winter & Spring has helped normalise European Storage – Positive
Moral and Political demand for sanctions on gas and oil – Negative
EU ramp up plans for renewable (and other) energy generation projects and more strategic collaboration between member states, in order to reduce future reliance on Russian gas supplies – Positive
Vulnerability of the already strained and highly sensitive global gas supply to any further negative influencing factors such as the Freeport LNG explosion – Negative
It is hoped that key LNG deliveries will come online, to help meet winter demand – Positive
Disclaimer
The contents of this report are provided solely as an information guide. The report is presented to you "as is" and may or may not be correct, current, accurate or complete. While every effort is made in preparing material for publication no responsibility is accepted by or on behalf of New Measured Power Limited t/a Pinergy for any errors, omissions or misleading statements within this report. No representation or warranty, express or implied, is made or liability accepted in relation to the accuracy or completeness of the information contained in this report. New Measured Power Limited t/a Pinergy reserves the right at any time to revise, amend, alter or delete the information provided in this report.