The saying goes that "No news is good news", hence there hasn't been update in some time.
While the general news has been rightly fixated on the siege and suffering in Mariupol, things had been going in the right direction from a gas and power perspective.  That was until Tuesday evening, more on that later.
As the chart below shows, Day Ahead Gas prices have been falling since early April to levels below prices were when the war started.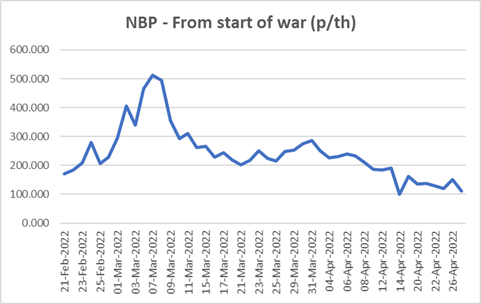 Why?
Physical Gas has continued to flow at good levels.  Gazprom has delivered 1% more gas in 2022 versus the same period in 2021.
The fear of sanctions on gas has receded as governments in the EU cannot get the required unanimity required to impose them.
LNG has continued to flow strongly.  April will be a record.
Storage levels go to within historical norms.
It should be noted the war started in Winter, we're now in Spring, gas prices normally fall at this time anyway as demand lowers.
This has manifested in power prices in April. As we know March prices came in at over €300.mwh, the first 10 days in April was €250, the next 10 days was €210 and recently it has been €202 despite very little wind generation in the last week or so.
All changed on Tuesday evening when Gazprom stated it was cutting supplies Poland and a few hours later Bulgaria.  It caught markets by surprise resulting in gas prices rising 25% or so in the last hour of trading on Tuesday and during Wednesday.  What was surprising was April gas purchases were not due to be settled until May but more importantly as mentioned in previous updates, the EU had come up with a "fudge" the permit payments to Gazprombank in Euros, with a conversion into a Rouble bank account in the clients name and then a transfer into Gazprom's own Rouble bank account.
Why Poland and Bulgaria?
We're not sure why Poland and Bulgaria couldn't comply with this and why gas was cut off to these countries so soon.  It's worth noting that Poland and Bulgaria's contract with Gazprom ceases at the end of the year and both have been vocal in saying they will not renew.  In Poland's case a new Baltic pipe is opening on 1 May which will bring gas to Poland from Norway via Denmark.  In addition, Poland storage is well above previous years.  Bulgaria is more exposed but it seems Greece will be able to get Gas to them from Azerbaijan via the Turkstream pipeline.  In addition, Greece will assist with LNG deliveries.
On Wednesday, markets pondered who was next to be cut off?  More information is emerging of different countries position vis a vis Gazprom. Uniper (Germany) says it will make payments in Euro, but doesn't expect to be cut off.  It appears they are using the EU approved mechanism.  ENI (Italy) is seemingly opening a Rouble bank account, OMV (Austria) said it didn't expect to be cut off.  Other EU countries have been more circumspect, but you'd expect Hungary to comply.  Romania has said it's not effected by the cuts to Poland or Bulgaria.
With the various statements, thankfully, Gas prices have retreated again so far.
As ever, things can change quickly in a positive or negative way.
Disclaimer
The contents of this report are provided solely as an information guide. The report is presented to you "as is" and may or may not be correct, current, accurate or complete. While every effort is made in preparing material for publication no responsibility is accepted by or on behalf of New Measured Power Limited t/a Pinergy for any errors, omissions or misleading statements within this report. No representation or warranty, express or implied, is made or liability accepted in relation to the accuracy or completeness of the information contained in this report. New Measured Power Limited t/a Pinergy reserves the right at any time to revise, amend, alter or delete the information provided in this report.