2021 opened with a familiar theme.
Average power prices hit a multi year high in January.
In January 2021, they were €82.46 per mWh up 85% on the same period in 2020 and up 32% on December 2020.
Specifically, the outturn in January arose for the following reasons:
Gas prices increased by 36% mid month due to high demand arising from cold weather.
Strong Asian demand for Liquefied Natural Gas (LNG) diverted gas supply away, resulting in fewer deliveries to Europe. In January, Britain only received 29% of January 2020 deliveries
Wind generation contributed only 32% of the generation mix, meaning expensive gas contributed the majority of power requirements
Unscheduled Outages remain at some key Combined Cycle Gas Turbine (CCGT) generation plants (e.g. Whitegate 400MW).
Demand increased due colder weather.
Key indicators remain elevated
Pricing on the Single Electricity Market (SEM) are ticking up month on month since the Summer.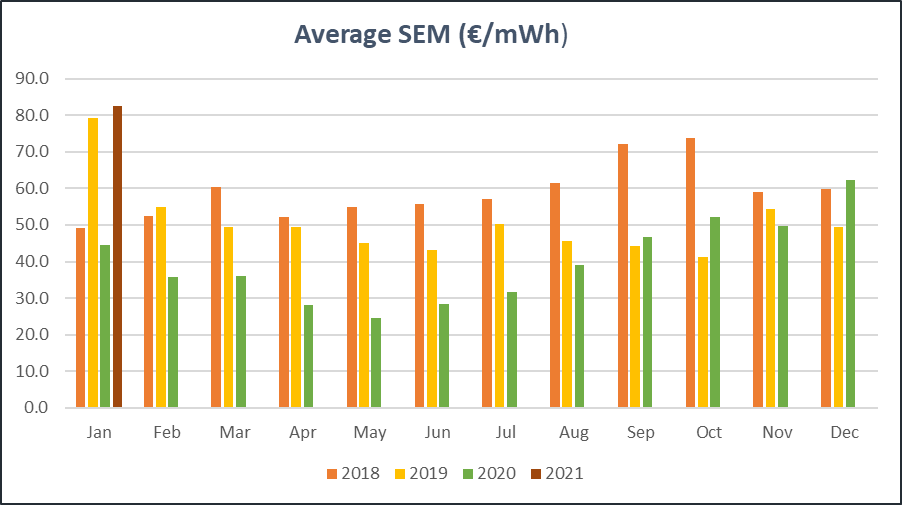 Period
Date
Electricity (€/mWh)
Gas (p/th) Day Ahead
Coal ($/t)
Carbon (€/t)
Brent Crude ($/bl)
Month End
31-12-20
62.47
57.60
69.25
32.87
51.43
One week ago
24-12-20
65.67
50.16
68.90
32.28
51.10
Four weeks ago
27-11-20
69.90
41.02
60.55
28.39
47.96
Last Year
02-01-20
25.72
31.00
56.85
24.59
66.33
Year on Year % Change
143%
85%
-5%
34%
-23%
Source: ICE-Intercontinental Exchange
Gas, Coal & Carbon
Day ahead Gas prices increased by 36% on December levels, due to:
Below seasonal norm temperatures increased demand
Reduced LNG supplies into Europe (29% to Britain v January 2020) as better pricing was achieved in Asia
Carbon prices remained strong boosted by speculative buying interest on foot of positive news on COVID-19 vaccine developments, providing a boon to economic  growth.

What's next?
Power markets will remain bullish in the 1st half of 2021.
Why?
On going support for gas prices as gas storage levels in Europe are drawn down due to forecasted cold weather. Storage levels now below prior years.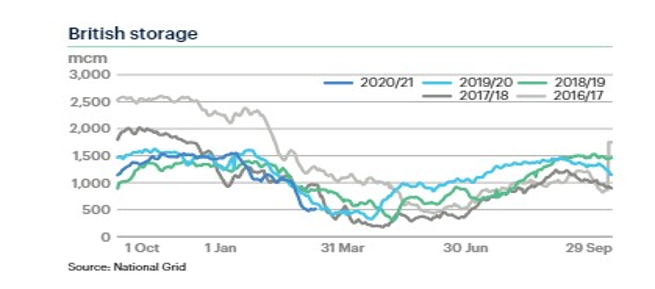 Continued outages in Irish and UK power stations together with strong demand will exacerbate price increases.
Carbon prices are supported by increased commercial activity as COVID-19 inoculation gains pace across Europe.
Disclaimer.
The contents of this report are provided solely as an information guide. The report is presented to you "as is" and may or may not be correct, current, accurate or complete.
While every effort is made in preparing material for publication no responsibility is accepted by or on behalf of New Measured Power Limited t/a Pinergy for any errors, omissions or misleading statements within this report.
No representation or warranty, express or implied, is made or liability accepted in relation to the accuracy or completeness of the information contained in this report. New Measured Power Limited t/a Pinergy reserves the right at any time to revise, amend, alter or delete the information provided in this report.