ABOUT TRADITIONAL CRAFT
Traditional Craft is an Irish company trading for more than 40 years in both domestic and international markets. It designs, produces and ships innovative branded merchandise for corporate clients, partnering with companies from a diverse range of industries such as brewers, distillers, sporting events, colleges, tourist attractions, corporate events and charities.
The Traditional Craft premises include a head office in Merrion Square, in the heart of Dublin and a 100,000 sq.ft. production facility in Newbridge, Co Kildare.
THE STATE OF ENERGY SUPPLY IN IRELAND
For decades, energy companies dealt with their corporate customers the same way – the only real information you receive is the monthly cost of your energy consumption. Energy was a homogenous product with price being the only differentiator; contracts were won and lost on the unit price.
Each month the customer got a bill that told them how many kilowatt-hours they had used and how much that cost.
There was no breakdown of where or how efficiently the energy was being used. Apart from seasonal variations, if the amount being billed was similar to last month, it was paid without question. Failure to pay carried the risk of energy supply being cut off.
FIRST CONTACT
Contact was made between Traditional Craft and Pinergy in early 2018.
At the time, Traditional Craft had an energy contract with what they thought was the cheapest provider in the market, based on the only comparison metric made available by other providers; the cost per kilowatt of energy.
However, after comparing its bills with those of similar Pinergy corporate clients it was clear that while the unit cost may be slightly more expensive, significant savings could be made due to the ability of the Pinergy Smart Business platform to deliver usage data in real-time.
ENERGY CONSUMPTION DOWN 17%
The most immediate impact of switching to Pinergy Smart Business was a 17% drop in energy consumption year on year, a significant shift for a business in the manufacturing arena.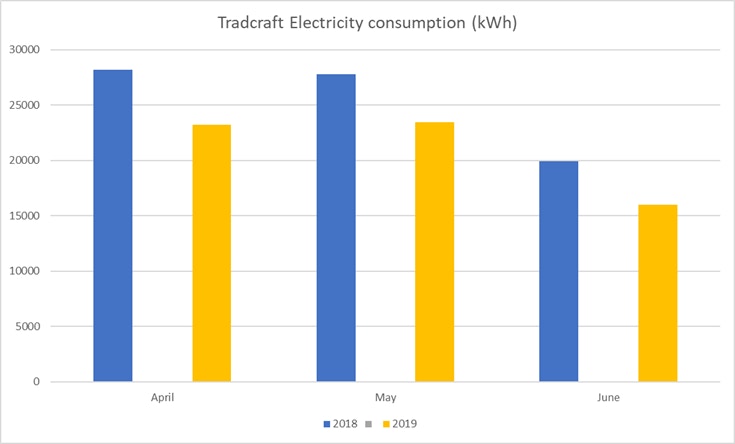 TOTAL COST SAVING: €4,000 PER MONTH
Traditional Craft understood that while there were 'cheaper' per kWh energy providers in the market, working with the Pinergy Smart Business platform would deliver savings via other means such as reducing total energy consumption.
And they were right.
While reducing total energy consumption by 17%, the Pinergy Smart Business platform helped Traditional Craft to save an average of €4,000 per month.
Traditional Craft's energy bill for April 2018 was approximately €8,500. This was reduced to €4,500 in April 2019.
There were four key methods that Pinergy used to ultimately save money for Traditional Craft:
1. Modernisation
While the method of billing by energy suppliers has remained unchanged since the 1920s, other industries have moved to data-rich, itemised bills. With more data, companies can make informed decisions on how to run their business more efficiently.
2. Transparency
Through the Pinergy Smart Business platform, you can monitor, manage and control energy usage 24/7. The software gathers and displays accurate data on your energy consumption every 30 minutes.
3. Reducing Waste
With enhanced data on your energy consumption, it is possible to identify appliances or rooms that might be using more power than required. Some simple analysis and testing can identify and reduce the energy being consumed in problem areas.
4. Environmentally friendly
Pinergy provides 100% green energy, so while you're saving money, you're also helping to save the planet.
A VERY QUICK WIN
Maximum Import Capacity (MIC) is the maximum demand that your premises can place on the energy network. Ideally, it should be enough to meet your requirements but not so large that energy is needlessly being pumped into an area. Capacity is measured in kilowatts (kW).
The Traditional Craft manufacturing facility had previously been used by a carpet manufacturer that had heavy machinery running for long periods of the day. Traditional Craft had a more modest energy consumption requirement.
The MIC into the building is 420 kW. Based on the equipment and staff in the Traditional Craft building, Pinergy engineers estimated the true requirement was less than half (approximately 175 kilowatts).
By forwarding the relevant data to the electricity network supplier Traditional Craft saw their MIC reduced. This simple change alone, identified through transparent data, saved Traditional Craft €12,000 in their first year.
LIGHTS ON, NOBODY HOME
Another source of saving was the ability to see the daily energy usage. What became apparent very quickly was that the motion sensors were turning the lights in the manufacturing facility on at the weekend even though the facility was closed. This unnecessary use of lighting was costing on average €600 per weekend. The solution was simple. By adding a time control, the lighting could be powered down completely for the weekend.
LED BULBS
Another obvious way to save money is by changing your light bulbs to energy-saving LED bulbs. After testing one area of the manufacturing facility, within 24 hours the results were overwhelmingly positive. The whole facility was then changed to using LED bulbs exclusively for lighting.
LOOKING TO THE FUTURE WITH SOLAR PANELS
As you'd expect a 100,000 sq.ft. facility has a large roof. This makes the possibility of adding solar panels very achievable. The benefits of this are
1. Eventually, the facility will be 100% powered by green energy
2. Excess energy generated will be purchased by Pinergy to be used elsewhere on the grid, giving the business an additional income stream.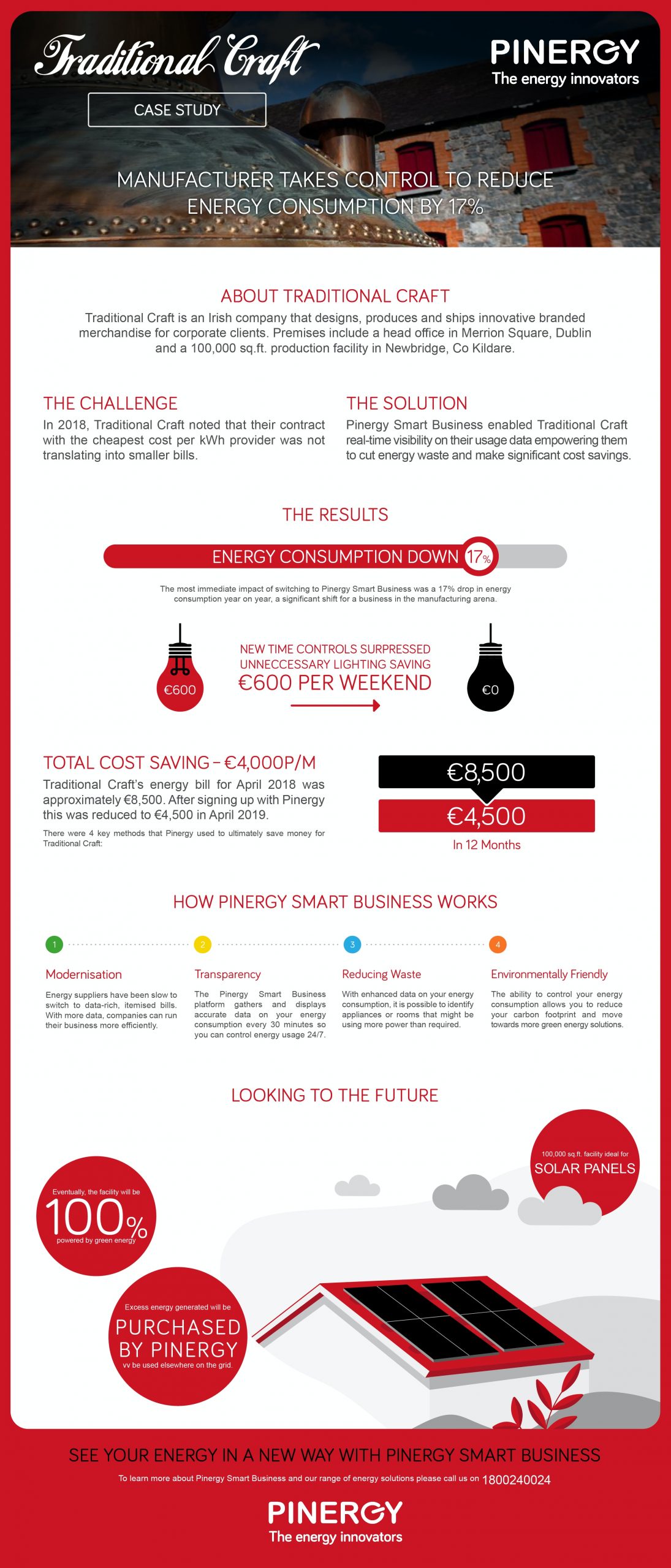 SEE YOUR ENERGY IN A NEW WAY WITH PINERGY SMART BUSINESS