The narrative in the Energy markets hasn't changed much in the last 10 days.  Fighting continues in the East of Ukraine and will for some time it seems.
Russia cuts Gas supply to Finland
From a commodity perspective, the only news of note is that gas supplies have been cut off as Finland gas importer, Gasun issued a notice to market on 17 May stating that it was taking its contract with Gazprom to arbitration over Putin's decree that payment was to be made in Rubles.  Gazprom promptly cut their supplies.  It should be noted that Gazprom gas makes up a very small proportion of Finland's fuel mix and therefore the market took the news in its stride.

Time to pay in Rubles!
Last Friday, 20th was a big day for the market as it was the day that most gas importers had to comply with Putin's Ruble decree.  It seems the main importers like Germany, Austria, Italy have all used the work around devised by the EU to circumvent their own sanctions.  Geopolitically, it's ironic to say the least, but positive from an energy costs perspective.
Spot gas prices have risen somewhat from the lows of our previous update.  Nonetheless, they are still well below pre-war levels for the same reasons as set out below:
Weather has been mild with temperatures above seasonal averages, reducing gas demand for heating.
Wind output has been strong, reducing the need for gas power generation
LNG deliveries remain high
British storage (albeit limited) is getting full
Britain is exporting to Europe at maximum capacity.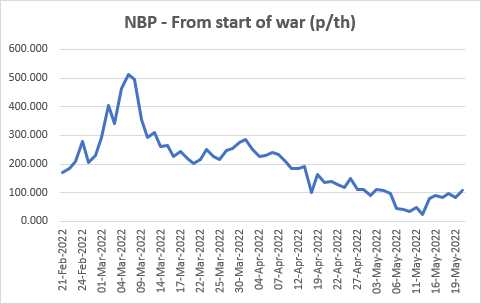 Interestingly too, the gap between British NBP and Dutch TTF has narrowed as the market has relaxed a little now that the Ruble issue seems to be put to bed (for now).
The glut of gas deliveries into Britain is helping Irish power prices.  Average power for May is approximately €140/mwh, well below previous months.  However, as before forward prices remain above the €200/mwh mark as the market is pricing in a tough winter as we wean ourselves off Russian gas.
As ever, the outlook can change at a whim.
Disclaimer
The contents of this report are provided solely as an information guide. The report is presented to you "as is" and may or may not be correct, current, accurate or complete. While every effort is made in preparing material for publication no responsibility is accepted by or on behalf of New Measured Power Limited t/a Pinergy for any errors, omissions or misleading statements within this report. No representation or warranty, express or implied, is made or liability accepted in relation to the accuracy or completeness of the information contained in this report. New Measured Power Limited t/a Pinergy reserves the right at any time to revise, amend, alter or delete the information provided in this report.