Pinergy and Climote partner to market smart new immersion controller
Pinergy, the smart energy supplier delivering clean electricity has today announced an energy efficient partnership initiative with climote, one of Europe's leading brands in the home energy technology sector.  The partnership will see the soon-to-be-launched climote Smart Immersion Controller available as part of a 'Pinergy Lifestyle H2O' plan supporting the sustainable energy needs of families with smart meters.
The Pinergy Lifestyle H2O plan enables Pinergy's customers to avail of an attractive discount unit rate of 5c per kilowatt-hour (kWh) between 4am and 7am, when using electricity to heat the water in their immersion tank. This plan is both more affordable and environmentally friendly than many existing carbon-based alternatives in the market as it fully utilises Pinergy's 100% renewable energy supply.
Commenting on this latest innovation partnership for Pinergy, Enda Gunnell, chief executive at Pinergy said: "At Pinergy, we are driven by leveraging smart technology, deep partnerships and a passion for empowering everyone to play their role in creating a sustainable energy future.  The introduction of our Pinergy Lifestyle H2O plan and its integration to the new climote Smart Immersion Controller is another game changer for consumers looking for a better and more carbon friendly way to heat water."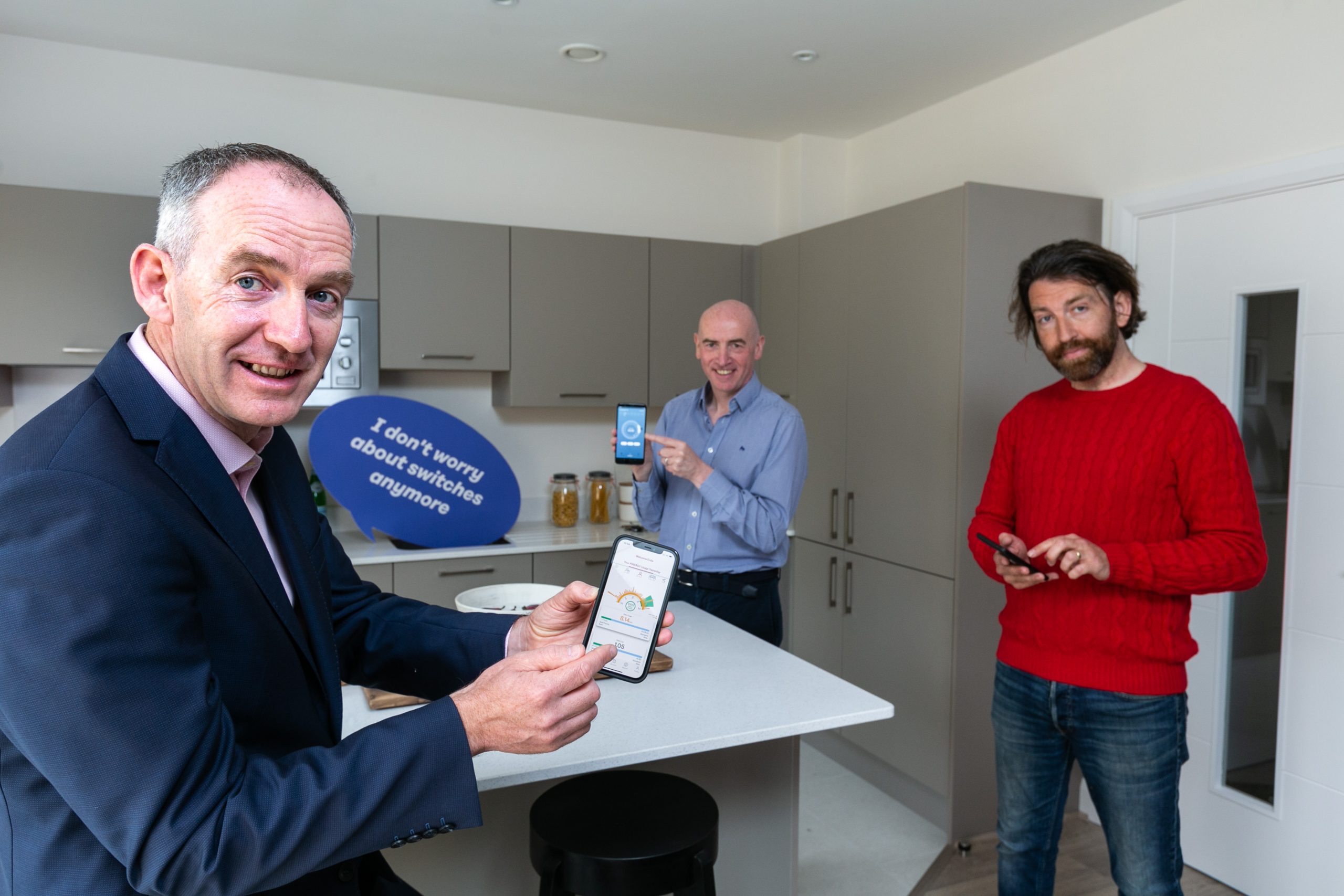 Enda Gunnell, CEO of Pinergy, Eamon Conway CEO of climote and Colm O'Regan photographed with the Pinergy Lifestyle App & climote App at the Occu Strand View, a development of energy-efficient, A2/A3 rated homes for the rental market in Dublin 3.
The new climote Smart Immersion Controller replaces the traditional sink/bath switch with a more sophisticated wall-mounted controller that is linked to sensors placed on the water tank. The product, which can be fully installed in less than 90 minutes, visually displays how much usable hot water is in your tank, allowing you to boost supply at the touch of a button and easily manage the clock settings to avail of the most competitive electricity rates over a 24-hour period.  The climote Smart Immersion Controller can also be operated via the climote Smart Immersion App, so you can view and boost your hot water from anywhere and at any time.
Eamon Conway, CEO at climote said: "Hot water heating typically represents 20% of our home energy usage, generated mostly from a fossil fuel source such as an oil or gas boiler. From our research many customers highlighted that they would like to contribute to a clean energy future but are unsure where to start. Teaming up with Pinergy with this new H20 tariff means that consumers can now heat their hot water with renewable electricity, allowing them to both reduce energy usage and to get started on their decarbonisation journey."
Earlier this year, Pinergy became the first energy supplier in Ireland to launch a set of discounted energy plans for homes with smart meters installed, under its Pinergy Lifestyle brand.  The Lifestyle bill pay plans include a "Work from Home" plan, a "Family Time" plan and a "Drive Time" plan for those families looking to charge their electric vehicles (EVs) overnight.       
Pinergy has also recently partnered with other forward-thinking businesses including Ohme, a specialist provider of innovative smart charging technology for electric vehicles, Synoptic, an advisory firm for telecoms, technology and Internet infrastructure and eLight, Ireland's leading Light as a Service (LaaS) provider.
Pinergy has collaborated with Irish comedian Colm O'Regan to create an upcoming selection of short videos which explain and outline the benefits of the climote Smart Immersion Controller as well as the launch of the Pinergy and climote partnership.  For further information on Pinergy Lifestyle and the new climote Smart Immersion Controller, you can also visit: https://pinergy.ie/home-electricity/lifestyle-landing-page-h20-time/