84% of businesses who do monitor energy check energy bills every month
93% of businesses plan to take some sort of action to reduce electricity consumption in the next 12 months with 26% intending to install a smart meter
Over half of businesses are quite aware and very concerned about the impact of climate change
100% consensus among businesses to support some form of positive government action to address climate change
Research published today by Pinergy, the smart energy provider, reveals how businesses are placing increased focus when it comes to monitoring their energy consumption and adjusting their usage to meet their budgets. While results from the latest Pinergy Business Energy Monitor indicate that 51% of businesses are not monitoring and adjusting their energy consumption, this represents a marginal decrease of 6% since the last survey was conducted six months ago. These findings are published following a year in which Irish electricity prices have increased in 2018.
Of the 49% who are monitoring their energy consumption, over four in five businesses cited that they check their bills every month as the most common monitoring method for energy consumption.This method is significantly higher than other potential means including the use of heating and lighting control devices (18%), smart energy plugs (18%) and smart meters (12%).With energy expenditure set to increase further over the coming months, Pinergy is calling on businesses to maintain this focus and to take the opportunity to more effectively manage their energy costs in 2019.
Commenting on the Pinergy research, Enda Gunnell, CEO at Pinergy said: "Energy costs represent a significant annual expenditure for Irish businesses and these costs are set to rise even further unless businesses equip themselves with the latest tools to more easily support them in how they control and manage this vital utility. Our research highlights that businesses could be doing a lot more to effectively manage their costs. Most energy bills tell you what you have used in the past which doesn't encourage you to make changes to your behaviour and are generally based on estimates. We welcome the indications from the second half of 2018 which saw more businesses intending to take action in 2019. Their plans include introducing LED lighting but we have seen significant improvements in businesses planning to install smart meters, as well as improvements on those planning to add Electric Vehicles to their fleet. Business intentions around micro generation technologies such as solar and wind are also really encouraging."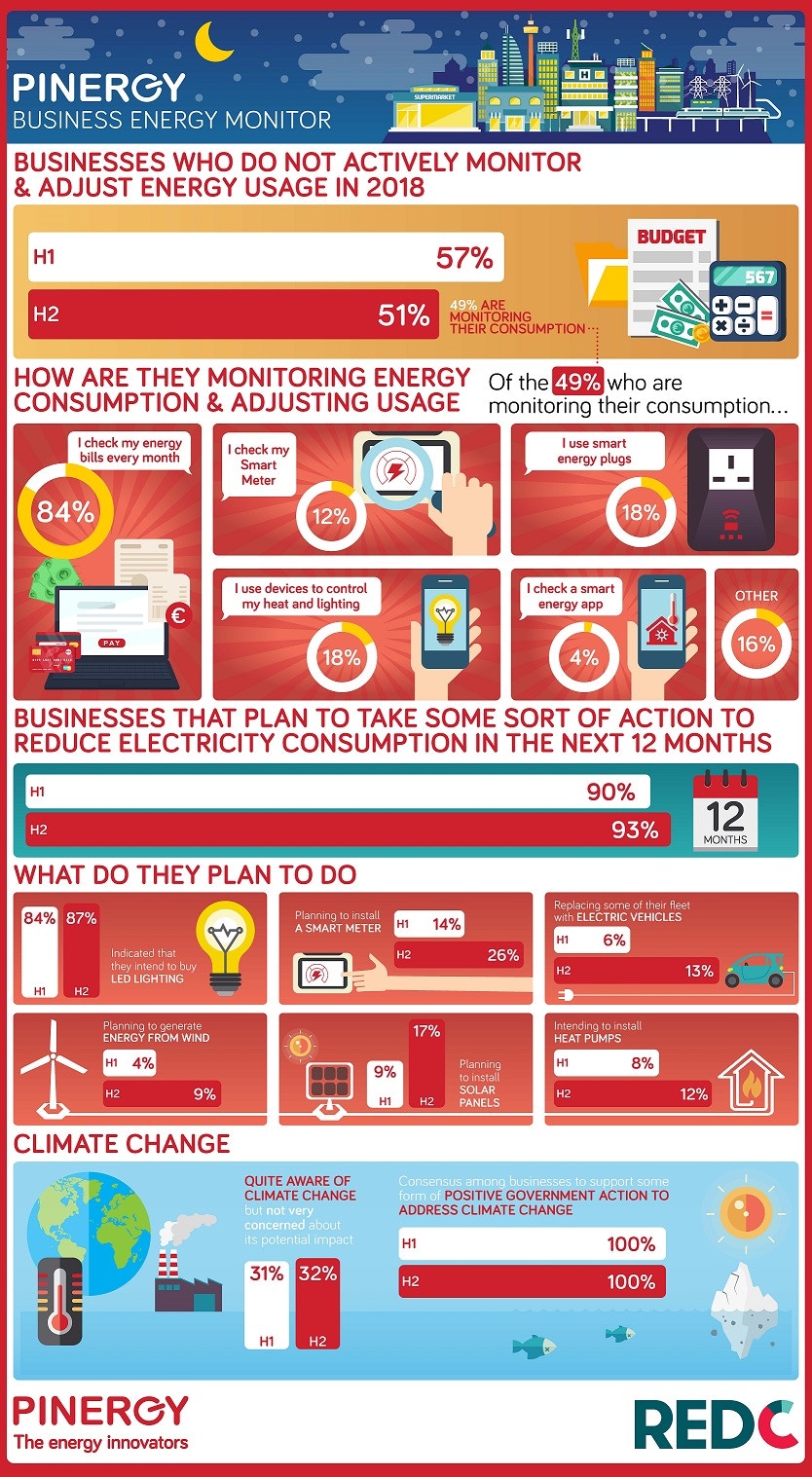 The comprehensive research based on a representative sample of 100 business decision makers across multiple industry sectors, was conducted by independent research specialist, RED C Research & Marketing.
The research indicates that just over nine in ten (93%) businesses have good intentions to change their behaviour and reduce energy costs within the next 12 months.This represents a slight increase of 3% on the research figures compiled earlier in 2018. Based on the research, 87% of respondents indicated that they intend to install LED lighting, with 68% stating that they are planning to actively monitor and reduce energy usage.In terms of other activities to be considered to support businesses around their energy management needs, 26% indicated an intention to install a smart meter within the next 12 months, an increase of 12% compared to previous research conducted six months ago.
When it comes to attitudes around climate change, the Pinergy Business Energy Monitor indicates that over half of businesses (53%) are quite aware and very concerned about the impact of climate change.
Overall, the research highlights continued widespread consensus from Irish businesses in favour of more positive government action in order to address the challenges of climate change.In particular, the availability of grants to install energy efficient devices was supported by 98% of respondents to the survey with incentives to increase the use of renewable sources of energy receiving the backing of support from 95% of respondents.
Pinergy welcomes the Government's stated €22 billion investment commitment in tackling emissions reduction but urgently calls on more actions to be taken and implemented if we are to achieve the 2020 and 2030 emission-reduction targets. According to Pinergy's Enda Gunnell: "This includes delivery of plans around carbon tax, the completion of a financial support scheme for renewable energy and trials of buses fuelled by non-fossil fuel sources including electricity."
The 'Pinergy Smart Business' system was launched in 2018 to bring a whole new approach to how business owners in particular can gain greater control over how they manage their energy usage and costs.With Pinergy Smart Business, businesses can have 24/7 access to a leading edge smart energy management platform that allows them to monitor, manage and control usage, compare their managed sites across the business and gather accurate and regular data insights on their energy consumption every 30 minutes.Equipped with this information, businesses can then make decisions in real time that help to improve energy efficiency and overall budget management.
Among its customers now using the new Pinergy Smart Business solution are leading businesses in the retail, manufacturing, hospitality, leisure, property and agri sectors. The Pinergy Smart Business system provides businesses with a tool to empower them to play their part every single day in building a sustainable energy future by being more energy efficient.