Commodity markets in the early part of June were relatively quiet.  Much of that is due to a double bank holiday in the UK to commemorate the Queen's Platinum Jubilee.
Gas pricing on the rise again
Following the gas price spike in late May, as markets were nervous digesting the impact of gas supply cut-offs due to the Ruble decree, gas prices have lowered somewhat in early June.
That calm came to an abrupt end with news that there was a fire in the Freeport Liquid Natural Gas (LNG) plant in the US.  It will be shut down for 3 weeks or so.  Freeport processes around 20% of US LNG.  The US has supplied over 50% of LNG to Europe in recent times.
As a result, month ahead and gas further out the curve shot up 10-15% as the markets anticipated a reduction in LNG deliveries.  The market has since absorbed the news and summer 2022 and winter 2023 gas falling back a little but still elevated versus early June.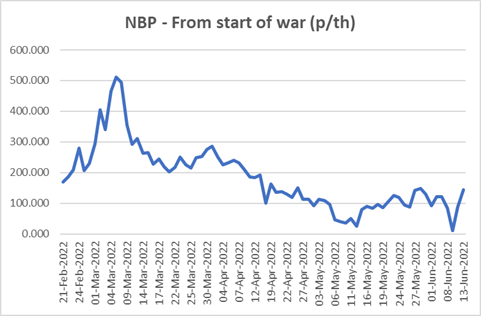 Ironically, the news from the US had little effect on spot NBP gas prices.  In fact spot prices collapsed to 10p/th due to a glut of gas in the UK and the inability to export the gas to Europe as the interconnector with Belgium was out.
That issue has since been resolved and spot prices are back to more normal levels last week.
Power Pricing fueled by uncertainity
Locally, power prices averaged  €154/mwh, since the start of June.  That average has been helped by abundant wind generation recently.
12-month Forward prices remains above €220/mwh, again with the pricing supported by market uncertainty.
The 'Iberian Exception'
On the Geopolitical side, interestingly, the EU commission approved a price cap on gas used for power generation in Spain and Portugal.
The measure, known as the "Iberian exception" caps the price of gas for generation at approx.. €48/mwh up to end May 2023.  It will be funded by income earned by the Spanish grid operator on power exports to France and a charge imposed on buyers benefitting from the scheme.
The scheme took effect from 15 June.  It will be interesting to see how this plays out and if it inspires Irish policy makers to make a similar bold move.
Disclaimer
The contents of this report are provided solely as an information guide. The report is presented to you "as is" and may or may not be correct, current, accurate or complete. While every effort is made in preparing material for publication no responsibility is accepted by or on behalf of New Measured Power Limited t/a Pinergy for any errors, omissions or misleading statements within this report. No representation or warranty, express or implied, is made or liability accepted in relation to the accuracy or completeness of the information contained in this report. New Measured Power Limited t/a Pinergy reserves the right at any time to revise, amend, alter or delete the information provided in this report.