Electric Vehicle (EV) guidance to FREE NOW taxi drivers
Pinergy, the smart energy provider of clean electricity, has announced a new energy partnership with FREE NOW, Ireland's leading ride-hailing app, which will see Pinergy provide expert support to FREE NOW drivers who want to make the transition to electric vehicles. The initiative supports FREE NOW's goal of having 100% zero emission rides in all key FREE NOW markets across Europe by 2030 with plans to have at least 50% fully electric vehicle rides by 2025.
As part of this new partnership, Pinergy will provide advice and services to FREE NOW partner drivers, including the installation of electric vehicle (EV) home charging points and guidance. Pinergy's newly launched smart energy 'Lifestyle' plans will also be available, with exclusive benefits for FREE NOW drivers to make the most of Pinergy's smart tariffs.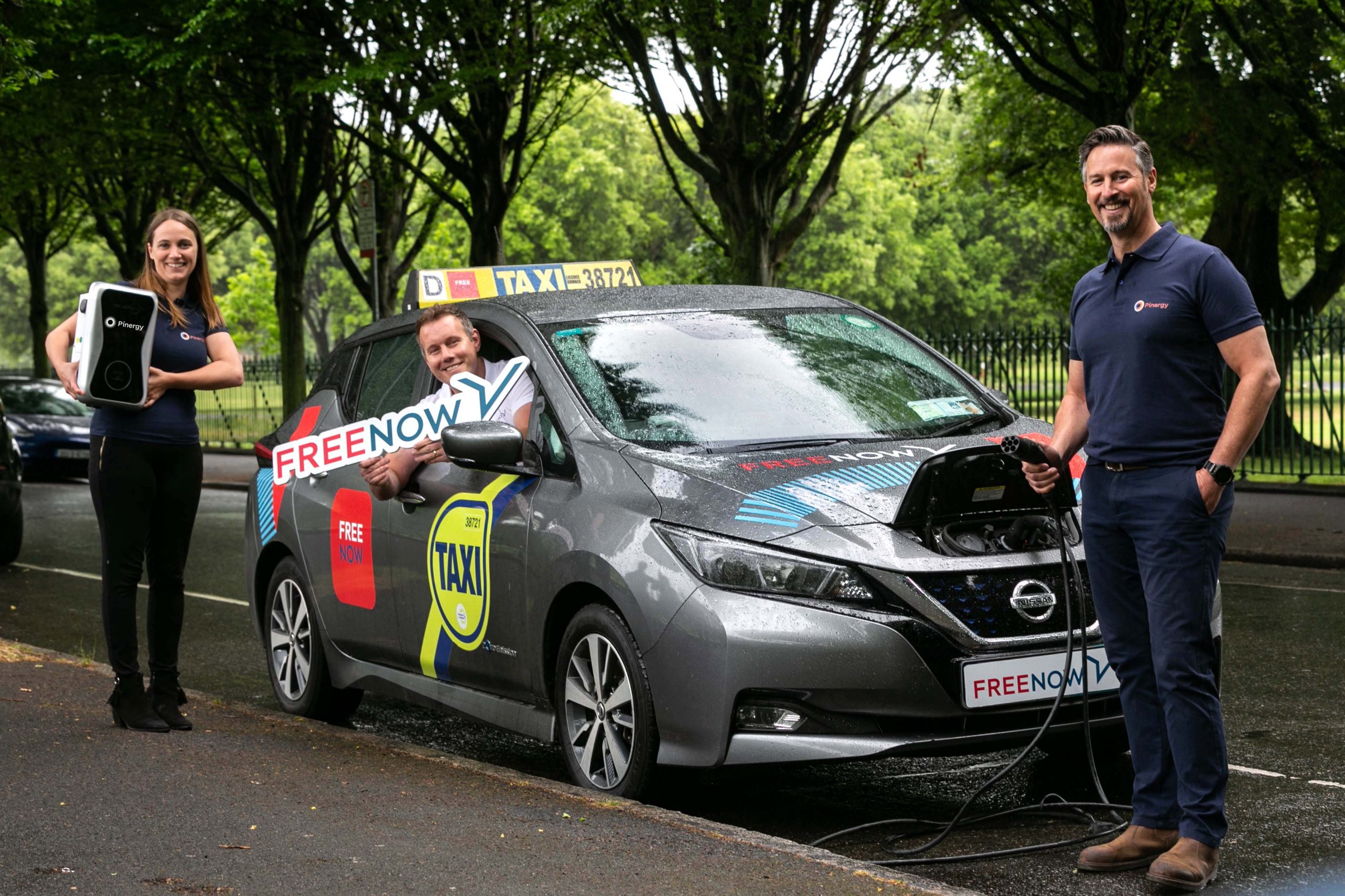 Electric Vehicle (EV) home charging points & installation
This announcement supports FREE NOW's Green Pledge for 100% of trips to be zero emission by 2030 in all key European cities.  As part of this, FREE NOW is investing €6million in an effort to encourage more drivers to switch to electric vehicles (EVs), by enabling them to install home chargers. FREE NOW has also recently launched its brand new EV expert team, which is dedicated to helping drivers make the move to an electric vehicle and avail of the generous grants now available. In addition, FREE NOW last year launched its 'Eco' booking option, which enables passengers to choose electric or hybrid taxis to support Ireland's drive to reduce carbon emissions and contribute to better air quality.
FREE NOW offers every driver who successfully avails of the SEAI (Sustainable Energy Authority of Ireland) Home Charging Grant Scheme an opportunity to save an additional €600 through the FREE NOW EV Home Charger Grant Match. As part of this partnership, Pinergy can supply and install the home EV charger at drivers' homes while also advising and consulting drivers to help them manage their energy supply efficiently and in a cost-effective manner. FREE NOW drivers that have already made the switch to electric report saving up to as much as €5,000 a year on running costs on top of the savings made by taking advantage of the various grants available.
Jon Jerromes, Head of Sales at Pinergy commenting on the partnership, said: "We at Pinergy are always excited to partner with forward thinking and innovative companies like FREE NOW who share our vision of an electric future and are committed to taking positive action in playing their part for a sustainable energy future. FREE NOW is leading the way in the electrification of Ireland's taxi fleet and today's announcement marks another important step towards the rollout of greener vehicles and achieving their zero emission rates targets."
Pinergy's recently announced Lifestyle Plans, designed around smart meter technology and its award-winning app, will also be available to FREE NOW drivers as part of the exclusive energy partnership deal between the two companies.  Pinergy's Lifestyle Plans are comprised of a choice of different discounted time-of-use tariffs to suit the particular lifestyle needs of energy consumers and include a "Work from Home" plan, a "Family Time" plan and a "Drive Time" plan for those families looking to charge their electric vehicles overnight, when energy supply is typically at its cheapest rates. Further information about Pinergy Lifestyle is available online at: https://pinergy.ie/home-electricity/fixed-price-plans/