Pinergy to invest in significant solar energy project at Munster Rugby's Musgrave Park as they commit to supporting Munster Rugby's ambition to be one of the most sustainable brands in rugby.
Pinergy has today teamed up with Irish and Munster legend, Niamh Briggs, to announce their commitment to the long-term support of Munster Rugby's sustainability strategy. Already supplying 100% renewable energy to Munster's Thomond Park and Musgrave Park, Pinergy will now fund a 10-year partnership to install a 400 kw peak Solar installation at Cork's Musgrave Park. Following this announcement, Munster Rugby will now seek planning permission for the project.
In November, Munster Rugby – having taken steps to reduce carbon emissions since 2008 – signalled their ambition to become one of the most sustainable clubs in world rugby by becoming one of a number of signatories to the Sports for Climate Action Framework (SC4A), run by the United Nations Framework Convention on Climate Change.
Munster Rugby has pledged to reduce greenhouse gas emissions by 50% by 2030 and reach net zero by 2040 and will work closely with Pinergy, Ireland's leading renewable energy supplier, over the next 10 years to achieve these goals.  Pinergy will serve as a lead partner to Munster Rugby in the development and implementation of its sustainability policy.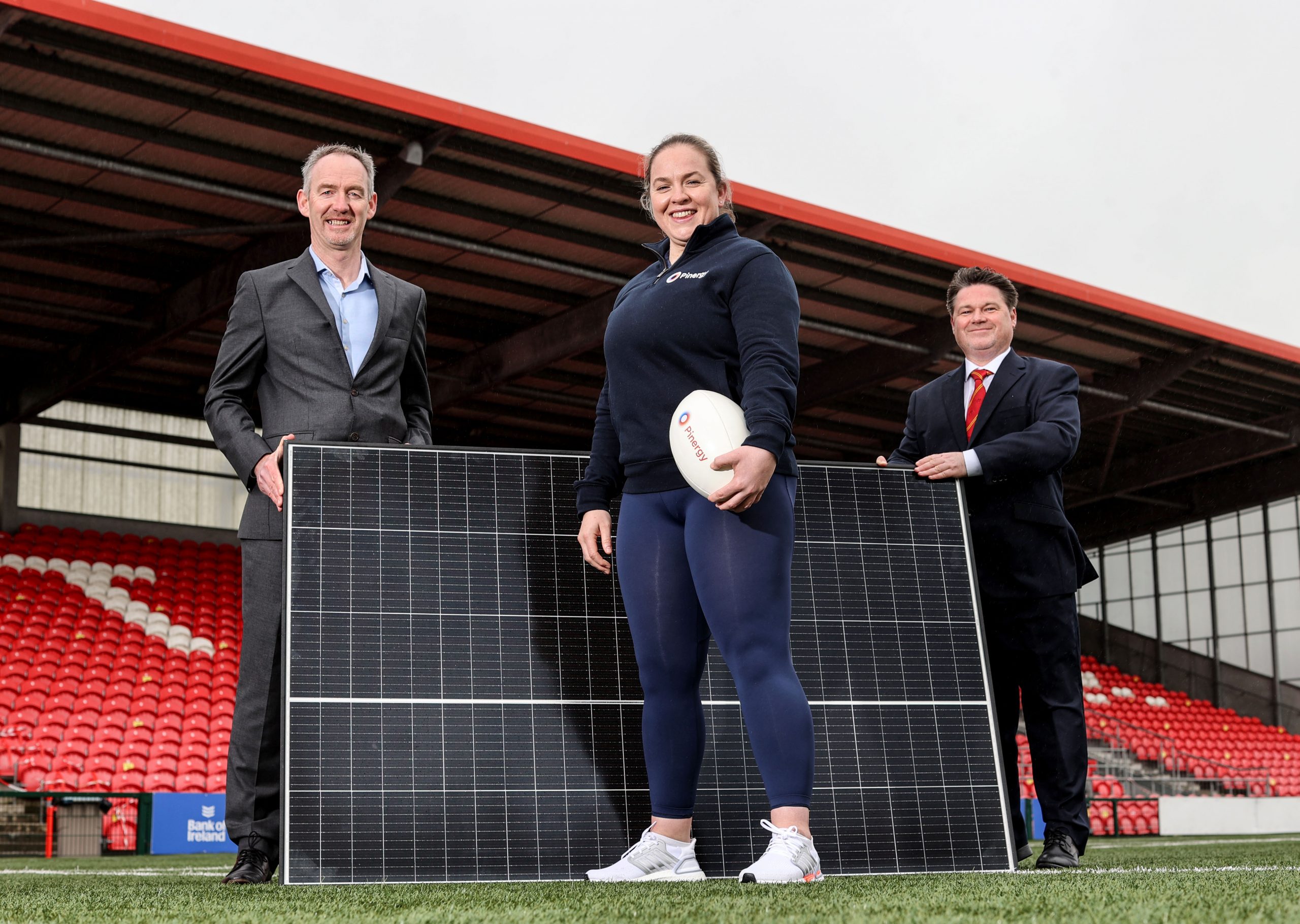 Pinergy has supported Munster since 2014 providing the province not just with renewable energy as the Province's Official Energy Partner, but with accompanying tools to optimise their energy use and reduce waste. Pinergy is also a sponsor of the Munster Rugby Supporters Club Choir as well as being title sponsors of the Pinergy Munster Schools Senior Cup.
Speaking at the launch at Musgrave Park today, Pinergy Chief Executive Officer, Enda Gunnell commented: "We are extremely proud to continue our support of Munster Rugby and to support the club in its tremendous ambition to become one of the most sustainable brands in world rugby. We are delighted to be able to work with Munster to showcase how our commitment to renewable energy with insight not only provides our customers with 100% green energy, but also provides them with analytic tools to optimise their energy use and reduce waste."
Ian Flanagan, Munster Rugby Chief Executive Officer, said: "At Munster Rugby, we are committed to a more sustainable future and are conscious of our contribution to community life in Munster including, the importance of sustainability to our collective future well-being. This Solar PV project partnership with Pinergy is a significant milestone on our sustainability journey. We are delighted to partner with Pinergy and benefit from their considerable expertise as we transition towards net zero and look to become one of the most sustainable clubs in world rugby."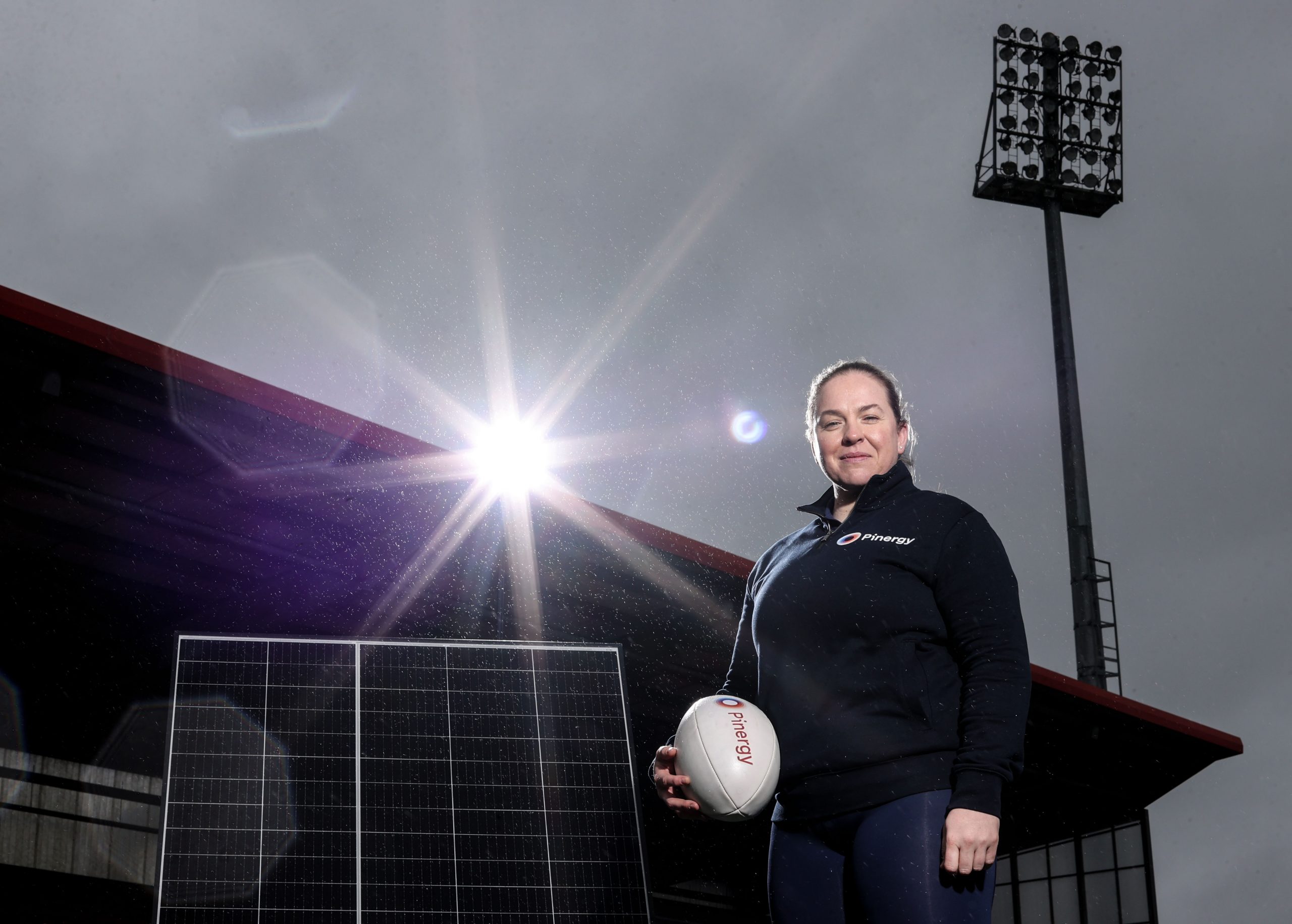 Former Munster and Ireland International and Munster and Ireland Assistant Coach, Niamh Briggs, added: "A key element of Munster Rugby is the contribution we strive to make to community life, not just on the pitch, but away from the field of play. Sustainability is one of the biggest challenges we face as a society as a whole. It is brilliant for Munster Rugby to be able to lead the way on this really important issue and to partner with Pinergy, benefiting from both their experience off the field of play as we chase our climate action goals and from their support on the field of play with their long-standing support for the club."
To mark the announcement, Niamh Briggs and Pinergy put the knowledge of three Munster Rugby players to the test. With Niamh Briggs as quizmaster, Calvin Nash, Shane Daly and Jack O'Sullivan were pitted against each other in a battle of wits with tough questions on clubs, crests and players young and old. To see who came out on top, and to find out more about Pinergy's support of Munster Rugby, follow Pinergy on their social channels across Facebook, Twitter and Instagram: