Pinergy, the smart clean energy supply & solutions company has been awarded Green Energy Company of the Year at the 2023 Chambers Ireland Recognition Awards. The awards, which were held at Clontarf Castle on May 26th, seek to recognise organisations that demonstrate the core values of business innovation, product innovation, technological achievement, and employee engagement.
Pinergy was recognised for its position as a disruptive energy innovator committed to empowering everyone to play their role in creating a sustainable energy future. The 'Green Energy Company of the Year' category celebrates the Company who has stepped up in innovative ways to play their part in helping to make a positive impact on the environment.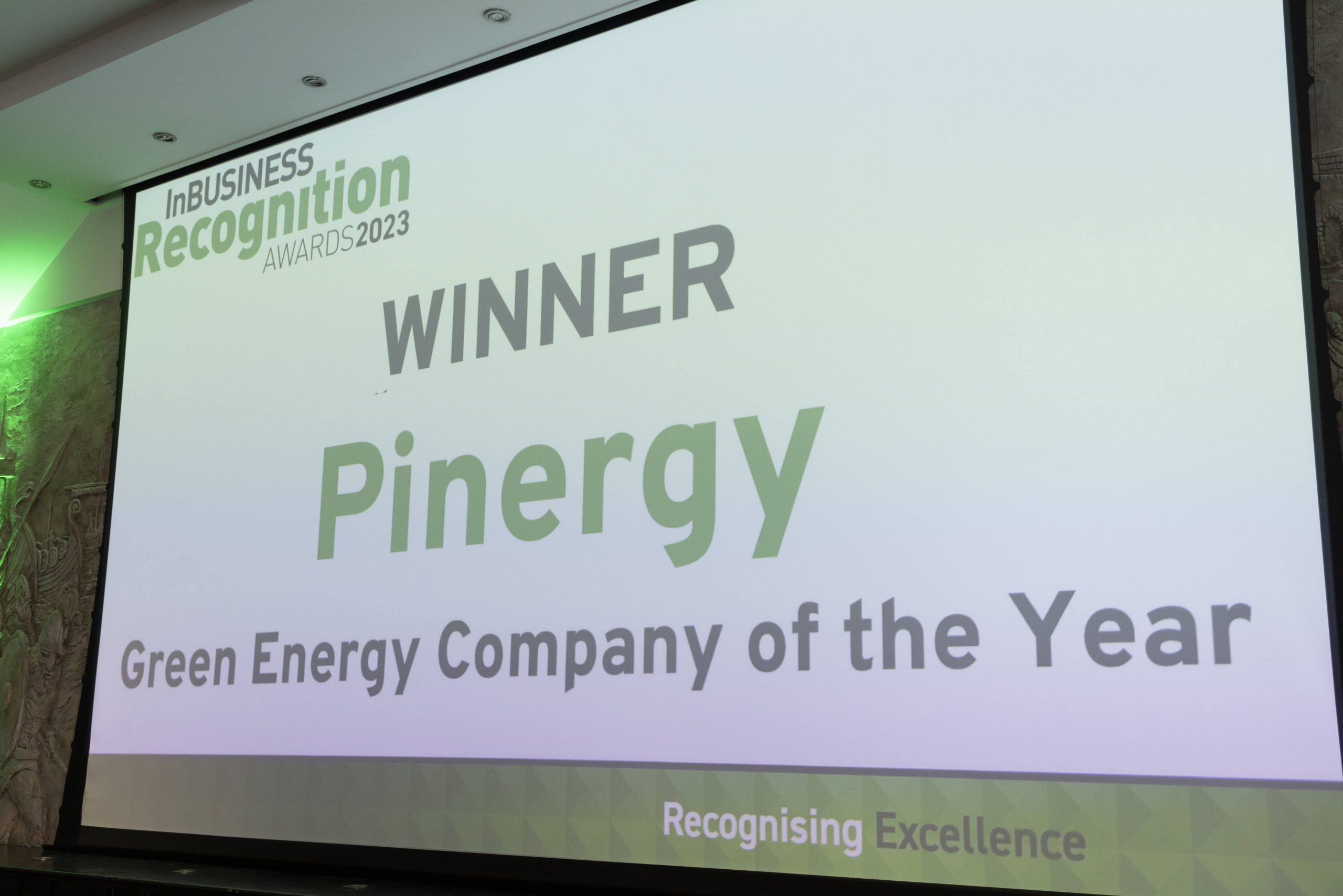 Speaking at the Recognition Awards, Ian Talbot, chief executive at Chambers Ireland said: "These Awards recognise and celebrate success, achievement and ambition within Irish businesses. They acknowledge and appreciate the contributions of individuals to growing businesses in this country. Chambers Ireland's purpose is to be the voice of business throughout Ireland. They support the network of chambers in their mission of making all local economies places where businesses and people thrive."
Since launching in 2013, the Pinergy business has evolved significantly. Today 80% of its business is supplying electricity to enterprises large and small across the country and advising them on their energy future.
Accepting the 'Green Energy Company of the Year' award on behalf of the team at Pinergy, Enda Gunnell, chief executive, said: "Today's award is a real independent recognition that we are delivering on our brand promise, 'Energy with Insight', which is built on our three key pillars; 'supplying' renewable energy, 'analysing' how energy and other utilities are used and thirdly, 'advising' clients on a more sustainable energy future."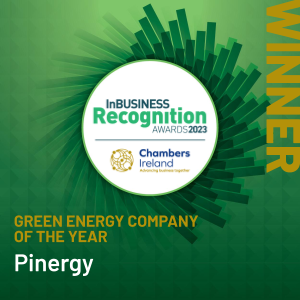 Pinergy's ethos is based around helping people understand their energy consumption in their home or business, helping them to optimize that consumption and reduce energy waste. Pinergy estimate that businesses are wasting on average 15% of their energy consumption every year, through no fault of their own, but just through bad habits, lack of awareness, and lack of visualization of their energy use.
In March this year, Pinergy acquired Acutrace allowing the company to further develop its capabilities in measuring and reporting on the energy and utility performance (including gas, water, air quality, waste etc) of commercial buildings in multiple sectors across the country. In 2021 Pinergy acquired SolarElectric, one of Ireland's fastest growing solar energy businesses, delivering Solar PV systems to the domestic, commercial and agricultural markets in Ireland.
During what has been a very challenging period for the sector, Pinergy produced a podcast series called Energy Matters, in partnership with The Currency, explaining a bit more about the energy crisis and exploring what could be done to futureproof the sector. Every month Pinergy publishes an Energy Insights Report which is shared with it key stakeholders.
The company has also developed a video content series broadcast on social media channels, called 'Sussed: The Sustainability Show'. The purpose of Sussed is to profile businesses who are making the change to being more sustainable, providing a platform to tell their story and potentially inspiring others to follow.
Pinergy is an active member of both Dublin and Enniscorthy Chambers of Commerce. In Dublin, Pinergy sponsors the Sustainable Dublin 2050 series of thought leadership events and the CEO of Pinergy SolarElectric has recently been co-opted onto the board of Enniscorthy Chamber of Commerce.